A forum requires parameters for each discussion in the form of a discussion charter and rules of conduct which cover all discussions on the forum.
Discussion Charter
Edit
Each discussion you start on your forum should have a simple charter, similar to a very basic terms of reference for a meeting or committee. It can be short – eg "this discussion will be about environment issues and will run from 1 January to 15 January 2007. Comments should be no longer than 200 words."

The charter should also spell out what will happen with the comments received from participants, eg "comments will be used as feedback to the Council and summaries of discussion will be provided to Council and published on this website. Outcomes of policy issues which have been discussed on the Forum will be published in the Forum email newsletters/ group emails to Forum members."
Example of a discussion charter
Edit
Darebin e-Forum "arts and leisure strategy" discussion charter
http://eforum.darebin.vic.gov.au/aaa_division/groups/testid/charter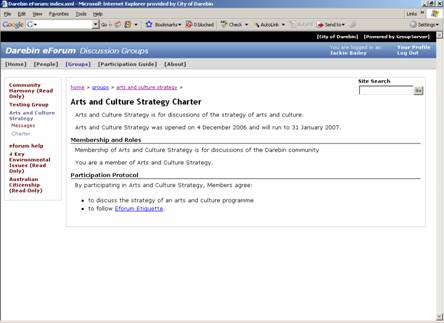 The charter is short and to the point, simply noting that you are bound to discuss the issues at hand, setting the timeframe for discussion and noting you are bound by the Forum Etiquette which are the rules of participation for the entire Forum.
Participation guidelines
Edit
Participation guidelines set out what is acceptable and not acceptable forum behaviour. Forum participants agree to the rules by participating on the forum.

Rules will include:
statements about acceptable behaviour, for example:
an expectation of politeness and respectfulness towards other people's opinions
statements about unacceptable behaviour which will lead to banning from the forum, for example:

prohibition of offensive language
prohibition of advertising

Rules should also include information on the situations which will give rise to a moderator banning a member or editing a post, so as to provide some certainty for forum members that decisions will not be arbitrary but are following agreed guidelines. For example:
the moderator has the right to exclude a member or delete a post
posts will be deleted and members potentially banned if posts are offensive, defamatory or rude

Rules might also include textual parameters, for example:
length of posts (eg maximum 200 words),
admissibility of images, hyperlinks and attachments
See E-Forums: Sample rules and disclaimers for sample participation guidelines.